Based in Western New York in the Buffalo area, The Union Volunteers Fife and Drum Corps is an historically authentic musical group specializing in the martial field music of the Civil War. You will thrill to hear the shrill sounds of the fife and the deep rumble of the drum, whether you witness The Union Volunteers Fife and Drum Corps on the parade route or in the lecture hall. Splendidly attired in the uniforms of northern Union musicians and performing on beautiful replica period instruments, we are available for parades, civic and patriotic events, memorials, funerals and ceremonies as well as presentations for schools and community organizations. Formed in 2009 by Jim Pace (fife) and Brian Seibel (drum), we are well known amongst Civil War reenactors in the Western New York area as well as the general public with our performances, parades and lecture/presentations. We have also performed for the National Park Service.
Being primarily a two member group - one fife and one drum - as was typically utilized at the company level (approx. 100 men) - we can, on occasion, augment The Union Volunteers Fife and Drum Corps for large venues. Jim Pace (fife) is a retired music educator (32 years) and an active professional musician performing on a variety of instruments with various bands and orchestras in the Buffalo, NY area for over 40 years. He is the town historian for West Seneca, NY. Brian Seibel (drum) is a busy professional freelance percussionist with many decades of experience in Civil War reenacting and musical research. He is also well versed in Scotch drumming and early American folk music. We also add a color guard unit and occasionally additional musicians for parades and larger events.

Rehearsals are scheduled as needed. If you are interested in joining us, hearing us, or engaging us for your event, contact us today!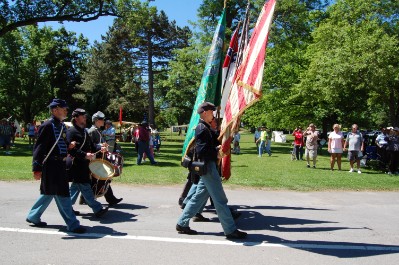 Muster in the Meadow, 2010. Photo Courtesy Caroline Esposito.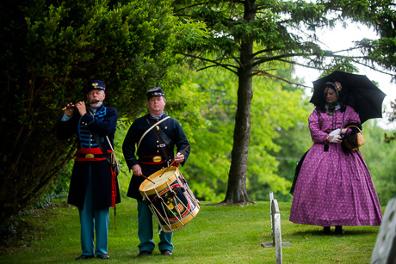 Memorial Day, Indian Falls Cemetery, 2015. Photo Courtesy Cliff Anderson.